Photo feature by Dave Bartruff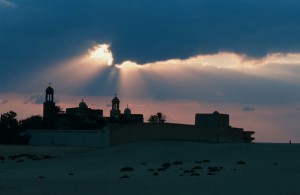 Out in the Egyptian desert between Cairo and Alexandria is an oasis of Christianity that has existed for two millennia: the Coptic Orthodox monasteries of the Wadi Natroun. Here, millenia earlier, in the same vast wilderness, salt (natroun) was extracted from the crusty shores of a dried up lake bed for use in the embalming of Egyptian Pharaohs.
Egypt's Christian roots date to the 8th Century BC when the Old Testament prophet Hosea was inspired to write God's declaration that, "Out of Egypt, I will call my Son." This was fulfilled when the Holy family fled Bethlehem to Egypt after Christ's birth and remained until the death of Israel's wicked King Herod.
In AD 43, the Evangelist Mark arrived in Egypt at the time of the Roman Emperor Nero, and Christianity quickly spread throughout the land. As Roman persecution of Christianity grew throughout the Empire into the 4th Century, Egyptian Christian (Copts) fled for refuge into their desert as the Holy Family did earlier. All the while, the Coptic Orthodox Church was developing its own 19-century-old traditions as tens of thousands of Christians found sanctuary in 5,000 desert refugees, and monastic orders were forming as well attracting monks from abroad including Armenia, Ethiopia, Syria and Italy.

The rise of militant Islam in the 7th Century added to ongoing incursions of Berber and Bedouin desert raiders, so the remote sanctuaries were consolidated and turned into secure, self-sustaining thick-walled bastions complete with store houses, workshops and bakeries.
Today, four Coptic Orthodox monasteries lie in close proximity to one another in the Wadi Natroun. All welcome visitors to tour their facilities led by multi-lingual resident monks. A day visit to two of the monasteries is sure to provide a fulfilling spiritual experience.
Coptic Egyptian Pope Shenouda III, headquartered in Cairo 65 miles from the monasteries, often retreats to work and meditate in these age-old desert Christian sanctuaries.